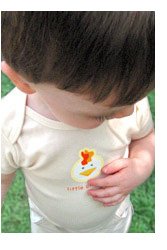 Before my son Keegan was born, I never dreamed the amount of joy and love he would bring into my life was possible. My little animal quickly became the center of my universe. As a parent, I continuously search far and wide for the best of everything for him -- yummy food, educational toys, stylish clothing. Bringing a new life into the world made me look at things in a whole new light.
Much to my surprise, I learned that 99 percent of cotton grown for clothing contains artificial fertilizers, pesticides and toxic chemicals. This didn't make sense to me. A newborn baby is the purest thing on earth; why cover him in cloth that's loaded with chemicals? Clearly, organic cotton was a better and healthier choice for baby clothing. However, finding outfits made from organic cotton that expressed my little animal's sense of style was difficult.
So, I created Little Animals™. Our tees, featuring exclusive animal designs that delight babies, are made from soft and natural organic cotton. No synthetic pesticides or harsh chemicals -- which are harmful to the environment and baby's delicate skin -- are used in our products. What's more, organic farming safeguards the health of wildlife; it supports species growth and diversity, which means more animals for your child to share the world with. Also, even though it looks and acts like regular plastic, most of our packaging is made from corn, a completely renewable, biodegradable and compostable resource that's not made from petroleum. Where this is not yet possible, we made sure to select a plastic with no known hazards that's easy to recycle.
We're proud to be a company that strives to make environmentally sound business decisions. Your comments and suggestions are always welcome. We appreciate your help in making Little Animals™ as great as it can be!
Enjoy our tees with your little animal!


Lisa Kaczar Boyce
Founder, Fresh Milk Company

Resources:
www.simplelife.com/organiccotton
www.sustainablecotton.org
www.epa.gov
www.panna.org
www.who.int